In Malay, Sentosa means quiet and peaceful, and this is also one of the four largest islands in Singapore. Although nature does not favor much for Singapore. In return, the government is very interested and knows how to invest in domestic tourist destinations.
It can be said that Singapore Sentosa Island is the most unique destination. By an interesting combination of cultural heritage, amusement parks, resorts and nature diversity.
When you want to save and admire the scenery without worrying about your feet, you can walk from the city center to Sentosa island. To walk to the island, you need to take the bus to Vivo City, the rooftop will have a tunnel to take you to the island.
Upon arrival, you only need to pay 1 $ as the entrance ticket. The distance of 600 meters is not too far. Moreover there are carpets, if tired feet just stand up there and the carpet will take you to your place. You can continue walking back if you wish or take the Sentosa Express.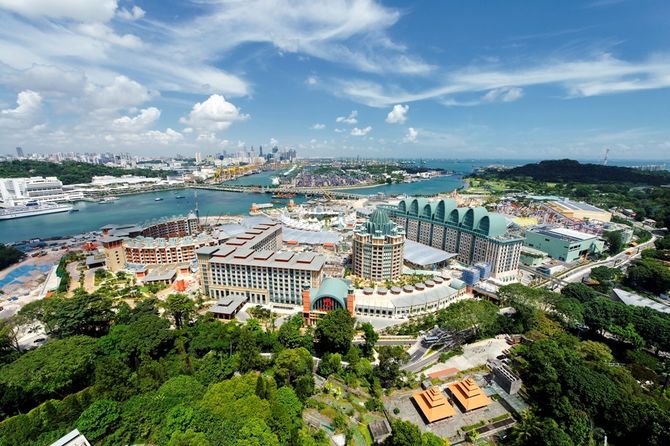 If you want to see the beauty of Sentosa Island from above, you can go to the Observatory inside the Merlion statue. A really respectable place for Singaporean friends is that even though a country comes to the sand, it must be imported.
This place has up to 8 different vegetation as well as many rare plants for you to explore. Occasionally, if you are lucky, you may also encounter wandering reptiles.
You will really get lost in the middle of the green forest when walking into the luxuriant tree trails. Those who love nature, especially families with children, do not miss this interesting resort on Sentosa Island, Singapore.
The entertainment area consists of 24 scenes designed in the theme of famous Hollywood movies. In addition, Universal Studios Singapore is also an attractive destination for many travelers around the world.